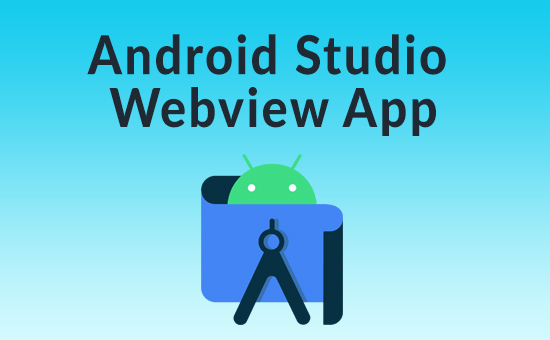 This post was last updated on May 17th, 2021 at 12:20 am
Android WebView is employed to show web content in android. the online page may be loaded from same application or uniform resource locator. it's accustomed show on-line content in android activity.
How can we add SwipeRefreshLayout and file selector and splashscreen to webview app. read the full post.
Now open activity_main.xml file from /res/layout path and write the code like as shown below
activity_main.xml

<?xml version="1.0" encoding="utf-8"?>
<android.support.constraint.ConstraintLayout xmlns:android="http://schemas.android.com/apk/res/android"
    xmlns:app="http://schemas.android.com/apk/res-auto"
    xmlns:tools="http://schemas.android.com/tools"
    android:layout_width="match_parent"
    android:layout_height="match_parent"
    tools:context=".MainActivity">


    <ProgressBar
        android:id="@+id/progressBar"
        android:layout_width="match_parent"
        android:layout_height="wrap_content"
        style="@style/Widget.AppCompat.ProgressBar.Horizontal"
        android:visibility="gone"/>

    <android.support.v4.widget.SwipeRefreshLayout
        android:id="@+id/swipe"
        android:layout_width="match_parent"
        android:layout_height="match_parent">

        <WebView
            android:id="@+id/webview"
            android:layout_width="match_parent"
            android:layout_height="match_parent" />

    </android.support.v4.widget.SwipeRefreshLayout>


</android.support.constraint.ConstraintLayout>

Now open MainActivity.java from \java\com.codeplaners path and write the code like as shown below
MainActivity.java

package com.codeplaners;
import android.support.v4.widget.SwipeRefreshLayout;
import android.support.v7.app.AppCompatActivity;
import android.os.Bundle;
import android.webkit.WebView;
import android.webkit.WebViewClient;
import android.view.WindowManager;
import android.view.Window;
import android.support.v7.app.AlertDialog;
import android.content.DialogInterface;
import android.webkit.WebChromeClient;
import android.widget.FrameLayout;
import android.graphics.Bitmap;
import android.graphics.BitmapFactory;
import android.view.View;
import android.os.Handler;
import android.app.Activity;
import android.content.Intent;
import android.net.Uri;
import android.os.Build;
import android.os.Environment;
import android.os.Parcelable;
import android.provider.MediaStore;
import android.util.Log;
import android.webkit.ValueCallback;
import android.widget.Toast;
import java.io.File;
import java.io.IOException;
import android.webkit.WebChromeClient;
import android.content.Context;
public class MainActivity extends AppCompatActivity {
WebView webView;
private SwipeRefreshLayout swipeRefreshLayout;
public Context context;
private static final String TAG = MainActivity.class.getSimpleName();
private static final int FILECHOOSER_RESULTCODE = 1;
private ValueCallback<Uri> mUploadMessage;
private Uri mCapturedImageURI = null;
// the same for Android 5.0 methods only
private ValueCallback<Uri[]> mFilePathCallback;
private String mCameraPhotoPath;
@Override
protected void onCreate(Bundle savedInstanceState) {
super.onCreate(savedInstanceState);
setContentView(R.layout.activity_main);
if (android.os.Build.VERSION.SDK_INT >= 21) {
Window window = this.getWindow();
window.addFlags(WindowManager.LayoutParams.FLAG_DRAWS_SYSTEM_BAR_BACKGROUNDS);
window.clearFlags(WindowManager.LayoutParams.FLAG_TRANSLUCENT_STATUS);
window.setStatusBarColor(this.getResources().getColor(R.color.colorPrimaryDark));
}
LoadWeb();
}
public void LoadWeb(){
webView = (WebView) findViewById(R.id.webview);
webView.getSettings().setJavaScriptEnabled(true);
webView.setWebChromeClient(new ChromeClient());
webView.getSettings().setAppCacheEnabled(true);
webView.loadUrl("https://codeplaners.com/");
webView.setWebViewClient(new WebViewClient() {
public void onReceivedError(WebView webView, int errorCode, String description, String failingUrl) {
try {
webView.stopLoading();
} catch (Exception e) {
}
if (webView.canGoBack()) {
webView.goBack();
}
webView.loadUrl("about:blank");
AlertDialog alertDialog = new AlertDialog.Builder(MainActivity.this).create();
alertDialog.setTitle("Error");
alertDialog.setMessage("Check your internet connection and try again.");
alertDialog.setButton(DialogInterface.BUTTON_POSITIVE, "Try Again", new DialogInterface.OnClickListener() {
public void onClick(DialogInterface dialog, int which) {
finish();
startActivity(getIntent());
}
});
alertDialog.show();
super.onReceivedError(webView, errorCode, description, failingUrl);
}
});
//pull to refresh
swipeRefreshLayout = (SwipeRefreshLayout)findViewById(R.id.swipe);
swipeRefreshLayout.setOnRefreshListener(new SwipeRefreshLayout.OnRefreshListener() {
@Override
public void onRefresh() {
swipeRefreshLayout.setRefreshing(true);
new Handler().postDelayed(new Runnable() {
@Override
public void run() {
swipeRefreshLayout.setRefreshing(false);
webView.reload();
}
},2000);
}
});
swipeRefreshLayout.setColorSchemeColors(
getResources().getColor(android.R.color.holo_blue_dark),
getResources().getColor(android.R.color.holo_orange_dark),
getResources().getColor(android.R.color.holo_green_dark),
getResources().getColor(android.R.color.holo_red_dark)
);
//enable upload part
webView.setWebChromeClient(new WebChromeClient() {
// for Lollipop, all in one
public boolean onShowFileChooser(
WebView webView, ValueCallback<Uri[]> filePathCallback,
WebChromeClient.FileChooserParams fileChooserParams) {
if (mFilePathCallback != null) {
mFilePathCallback.onReceiveValue(null);
}
mFilePathCallback = filePathCallback;
Intent takePictureIntent = new Intent(MediaStore.ACTION_IMAGE_CAPTURE);
if (takePictureIntent.resolveActivity(getPackageManager()) != null) {
// create the file where the photo should go
File photoFile = null;
try {
photoFile = createImageFile();
takePictureIntent.putExtra("PhotoPath", mCameraPhotoPath);
} catch (IOException ex) {
// Error occurred while creating the File
Log.e(TAG, "Unable to create Image File", ex);
}
// continue only if the file was successfully created
if (photoFile != null) {
mCameraPhotoPath = "file:" + photoFile.getAbsolutePath();
takePictureIntent.putExtra(MediaStore.EXTRA_OUTPUT,
Uri.fromFile(photoFile));
} else {
takePictureIntent = null;
}
}
Intent contentSelectionIntent = new Intent(Intent.ACTION_GET_CONTENT);
contentSelectionIntent.addCategory(Intent.CATEGORY_OPENABLE);
contentSelectionIntent.setType("image/*");
Intent[] intentArray;
if (takePictureIntent != null) {
intentArray = new Intent[]{takePictureIntent};
} else {
intentArray = new Intent[0];
}
Intent chooserIntent = new Intent(Intent.ACTION_CHOOSER);
chooserIntent.putExtra(Intent.EXTRA_INTENT, contentSelectionIntent);
chooserIntent.putExtra(Intent.EXTRA_TITLE, getString(R.string.image_chooser));
chooserIntent.putExtra(Intent.EXTRA_INITIAL_INTENTS, intentArray);
startActivityForResult(chooserIntent, FILECHOOSER_RESULTCODE);
return true;
}
// creating image files (Lollipop only)
private File createImageFile() throws IOException {
File imageStorageDir = new File(Environment.getExternalStoragePublicDirectory(Environment.DIRECTORY_PICTURES), "DirectoryNameHere");
if (!imageStorageDir.exists()) {
imageStorageDir.mkdirs();
}
// create an image file name
imageStorageDir = new File(imageStorageDir + File.separator + "IMG_" + String.valueOf(System.currentTimeMillis()) + ".jpg");
return imageStorageDir;
}
// openFileChooser for Android 3.0+
public void openFileChooser(ValueCallback<Uri> uploadMsg, String acceptType) {
mUploadMessage = uploadMsg;
try {
File imageStorageDir = new File(Environment.getExternalStoragePublicDirectory(Environment.DIRECTORY_PICTURES), "DirectoryNameHere");
if (!imageStorageDir.exists()) {
imageStorageDir.mkdirs();
}
File file = new File(imageStorageDir + File.separator + "IMG_" + String.valueOf(System.currentTimeMillis()) + ".jpg");
mCapturedImageURI = Uri.fromFile(file); // save to the private variable
final Intent captureIntent = new Intent(android.provider.MediaStore.ACTION_IMAGE_CAPTURE);
captureIntent.putExtra(MediaStore.EXTRA_OUTPUT, mCapturedImageURI);
// captureIntent.putExtra(MediaStore.EXTRA_SCREEN_ORIENTATION, ActivityInfo.SCREEN_ORIENTATION_PORTRAIT);
Intent i = new Intent(Intent.ACTION_GET_CONTENT);
i.addCategory(Intent.CATEGORY_OPENABLE);
i.setType("image/*");
Intent chooserIntent = Intent.createChooser(i, getString(R.string.image_chooser));
chooserIntent.putExtra(Intent.EXTRA_INITIAL_INTENTS, new Parcelable[]{captureIntent});
startActivityForResult(chooserIntent, FILECHOOSER_RESULTCODE);
} catch (Exception e) {
Toast.makeText(getBaseContext(), "Camera Exception:" + e, Toast.LENGTH_LONG).show();
}
}
// openFileChooser for Android < 3.0
public void openFileChooser(ValueCallback<Uri> uploadMsg) {
openFileChooser(uploadMsg, "");
}
// openFileChooser for other Android versions
/* may not work on KitKat due to lack of implementation of openFileChooser() or onShowFileChooser()
https://code.google.com/p/android/issues/detail?id=62220
however newer versions of KitKat fixed it on some devices */
public void openFileChooser(ValueCallback<Uri> uploadMsg, String acceptType, String capture) {
openFileChooser(uploadMsg, acceptType);
}
});
}
private class ChromeClient extends WebChromeClient {
private View mCustomView;
private WebChromeClient.CustomViewCallback mCustomViewCallback;
protected FrameLayout mFullscreenContainer;
private int mOriginalOrientation;
private int mOriginalSystemUiVisibility;
ChromeClient() {}
public Bitmap getDefaultVideoPoster()
{
if (mCustomView == null) {
return null;
}
return BitmapFactory.decodeResource(getApplicationContext().getResources(), 2130837573);
}
public void onHideCustomView()
{
((FrameLayout)getWindow().getDecorView()).removeView(this.mCustomView);
this.mCustomView = null;
getWindow().getDecorView().setSystemUiVisibility(this.mOriginalSystemUiVisibility);
setRequestedOrientation(this.mOriginalOrientation);
this.mCustomViewCallback.onCustomViewHidden();
this.mCustomViewCallback = null;
}
public void onShowCustomView(View paramView, WebChromeClient.CustomViewCallback paramCustomViewCallback)
{
if (this.mCustomView != null)
{
onHideCustomView();
return;
}
this.mCustomView = paramView;
this.mOriginalSystemUiVisibility = getWindow().getDecorView().getSystemUiVisibility();
this.mOriginalOrientation = getRequestedOrientation();
this.mCustomViewCallback = paramCustomViewCallback;
((FrameLayout)getWindow().getDecorView()).addView(this.mCustomView, new FrameLayout.LayoutParams(-1, -1));
getWindow().getDecorView().setSystemUiVisibility(3846 | View.SYSTEM_UI_FLAG_LAYOUT_STABLE);
}
}
// return here when file selected from camera or from SD Card
@Override
public void onActivityResult(int requestCode, int resultCode, Intent data) {
// code for all versions except of Lollipop
if (Build.VERSION.SDK_INT < Build.VERSION_CODES.LOLLIPOP) {
if (requestCode == FILECHOOSER_RESULTCODE) {
if (null == this.mUploadMessage) {
return;
}
Uri result = null;
try {
if (resultCode != RESULT_OK) {
result = null;
} else {
// retrieve from the private variable if the intent is null
result = data == null ? mCapturedImageURI : data.getData();
}
} catch (Exception e) {
Toast.makeText(getApplicationContext(), "activity :" + e, Toast.LENGTH_LONG).show();
}
mUploadMessage.onReceiveValue(result);
mUploadMessage = null;
}
} // end of code for all versions except of Lollipop
// start of code for Lollipop only
if (Build.VERSION.SDK_INT >= Build.VERSION_CODES.LOLLIPOP) {
if (requestCode != FILECHOOSER_RESULTCODE || mFilePathCallback == null) {
super.onActivityResult(requestCode, resultCode, data);
return;
}
Uri[] results = null;
// check that the response is a good one
if (resultCode == Activity.RESULT_OK) {
if (data == null || data.getData() == null) {
// if there is not data, then we may have taken a photo
if (mCameraPhotoPath != null) {
results = new Uri[]{Uri.parse(mCameraPhotoPath)};
}
} else {
String dataString = data.getDataString();
if (dataString != null) {
results = new Uri[]{Uri.parse(dataString)};
}
}
}
mFilePathCallback.onReceiveValue(results);
mFilePathCallback = null;
} // end of code for Lollipop only
}
@Override
public void onBackPressed(){
if (webView.canGoBack()){
webView.goBack();
}else {
finish();
}
}
}

Now open activity_splash.xml file from /res/layout path and write the code like as shown below
activity_splash.xml

<?xml version="1.0" encoding="utf-8"?>
<RelativeLayout xmlns:android="http://schemas.android.com/apk/res/android"
xmlns:tools="http://schemas.android.com/tools"
android:layout_width="match_parent"
android:layout_height="match_parent"
android:background="@drawable/splash"
android:gravity="center"
android:orientation="vertical">
<ImageView
android:id="@+id/logo_id"
android:layout_width="180dp"
android:layout_height="180dp"
android:layout_centerInParent="true"
android:src="@drawable/applogo" />
<TextView
android:layout_width="wrap_content"
android:layout_height="wrap_content"
android:layout_below="@+id/logo_id"
android:layout_centerHorizontal="true"
android:text="Code Planers"
android:textColor="#fff"
android:textSize="30dp" />
</RelativeLayout>

Now open SplashActivity.java from \java\com.codeplaners path and write the code like as shown below
SplashActivity.java

package com.codeplaners;
import android.content.Intent;
import android.os.Handler;
import android.support.v7.app.AppCompatActivity;
import android.os.Bundle;
import android.view.Window;
import android.view.WindowManager;
public class SplashActivity extends AppCompatActivity {
@Override
protected void onCreate(Bundle savedInstanceState) {
super.onCreate(savedInstanceState);
setContentView(R.layout.activity_splash);
if (android.os.Build.VERSION.SDK_INT >= 21) {
Window window = this.getWindow();
window.addFlags(WindowManager.LayoutParams.FLAG_DRAWS_SYSTEM_BAR_BACKGROUNDS);
window.clearFlags(WindowManager.LayoutParams.FLAG_TRANSLUCENT_STATUS);
window.setStatusBarColor(this.getResources().getColor(R.color.colorPrimaryDark));
}
new Handler().postDelayed(new Runnable() {
@Override
public void run() {
Intent intent = new Intent(SplashActivity.this,MainActivity.class);
startActivity(intent);
finish();
}
}, 3000);
}
}

Now open our application AndroidManifest.xml file in /manifests directory and write the code like as shown below
AndroidManifest.xml

<?xml version="1.0" encoding="utf-8"?>
<manifest xmlns:android="http://schemas.android.com/apk/res/android"
package="com.codeplaners">
<uses-permission android:name="android.permission.INTERNET"></uses-permission>
<uses-permission android:name="android.permission.READ_EXTERNAL_STORAGE"></uses-permission>
<uses-permission android:name="android.permission.WRITE_EXTERNAL_STORAGE"></uses-permission>
<uses-permission android:name="android.permission.ACCESS_NETWORK_STATE" />
<uses-permission android:name="android.permission.CAMERA" />
<uses-feature android:name="android.hardware.camera" />
<application
android:allowBackup="true"
android:icon="@drawable/applogo"
android:label="Code Planers"
android:roundIcon="@drawable/applogo"
android:supportsRtl="true"
android:usesCleartextTraffic="true"
android:hardwareAccelerated="true"
android:theme="@style/AppTheme">
<activity android:name=".SplashActivity"
android:configChanges="keyboard|keyboardHidden|orientation|screenLayout|uiMode|screenSize|smallestScreenSize"
android:theme="@style/Theme.AppCompat.Light.NoActionBar">
<intent-filter>
<action android:name="android.intent.action.MAIN" />
<category android:name="android.intent.category.LAUNCHER" />
</intent-filter>
</activity>
<activity android:name=".MainActivity" android:theme="@style/Theme.AppCompat.Light.NoActionBar"></activity>
</application>
</manifest>

Note:- Any problem contact my whatsapp 9829601023